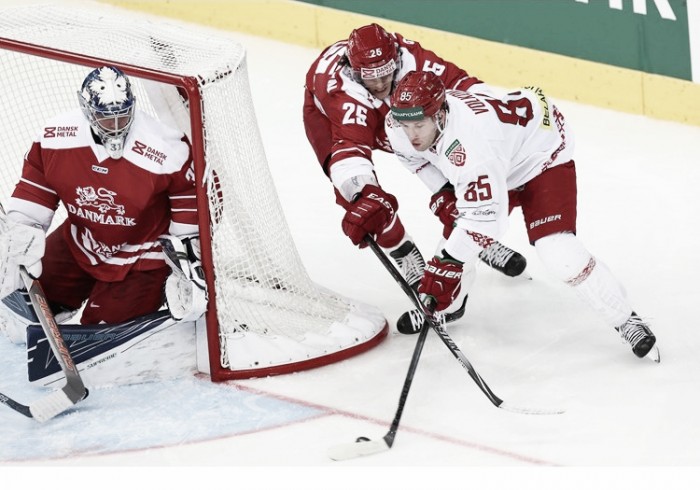 By vavel.com
Denmark loses in an upset to Belarus
Nicklas Jensen scored a goal at 2:46 of the first period, a fast start to the game. Red Wings center and Denmark's captain Frans Nielsen was on the ice for the goal but did not get an assist. Mikkel Boedker did, though. Denmark didn't let off the gas after that, keeping the play in the Belarus zone.  Mikkel Boedker skated through the Belarus team, and into the Belarus goalie while trying to score. The Belarus goalie, Lalonde ended up staying in the game, the Belarusian crowd cheering that he's good to go. The play has intensified as both teams try to outmuscle each other.  Belarus scored on a 3-1, thanks to winning a battle on the boards against Denmark. The game is tied 1-1 in the first, the goal scored at 11:50 of the first period by Alexander Pavlovich.  Artyom Volkov  scores a shorthanded goal for Belarus, 2-1 Belarus at 17:08 of the first period. The favorited Denmark is down 2-1 after the first period of play. The shots are 10-7 Denmark after one.  Andersen looked rusty in goal, his lateral movement not up to speed.
Belarus started the 2nd period off with a scoring chance a minute and a half in. Belarus followed that up with a shot off the post that triggered the goal light. The replay showed just how close that shot was.  Denmark forward Jesper B. Jensen gave a nasty hit to Belarus forward Artur Gavrus. A Danish forward was injured after that, Morten Madsen was hit by Alexander Pavlovich.  It's become a bit of a track meet after those hits. Scoring chances are being traded either way,  but no goals and plenty of physical play. Denmark's power play involves a lot of puck movement, but Belarus killed off a penalty, that ended around the 2:10 left mark of the 2nd period. The Danes kept the puck in the zone and the pressure was on Belarus, but Nicklas Jensen takes a slashing penalty. Artur Gavrus makes it a 4 on 4 for the remainder of the second period in what has been an exciting game. The score remains 2-1 Belarus after two. The Danes will need to surge back in the third to avoid an upset.
Belarus puts the game away
Denmark started off the third period with having to kill off a penalty, starting about two minutes into the period. After a ferocious scramble in front of the net, Sergei Kostitsyn scores to put the Belarusians ahead 3-1! The play was reviewed, and it is a goal for Belarus. The Danes are on the verge of being upset! In 2014 they lost after being favored against Slovenia, now it's looking like that fate will repeat itself for Denmark. At 8:24 into the third period, Danish forward Nikolaj Ehlers had a nice scoring chance. Tempers are starting to flare midway through the third period as a scrum breaks out. Andrei Stas makes it 4-1 for Belarus, who looks to have an upset over Denmark secured. Stas scored at the 53:17 mark from Geoff Platt. Mikkel Boedker goes to the box during a power play for Denmark after getting involved in a scrum as well as another Belarusian player. Andrei Stas got two for Checking from Behind as well as a ten-minute misconduct while Boedker got a two-minute minor for roughing. Jannik Hansen scores for Denmark, making it 4-2 at the 58:41 mark. Assists come from Nikolaj Ehlers and Frans Nielsen. Too little too late for Denmark as Belarus seals the upset with an empty netter from Sergei Kostitsyn at the 59:24 mark, Belarus wins 5-2.
Denmark just wasn't able to overcome a motivated Belarus team. Denmark's stars started to shine too late into the game. Ehlers, Nielsen and Boedker all had one assist. Jannik Hansen and Nicklas Jensen had the goals.  Although Nikolaj Ehlers and Boedker had chances among others, they were unable to add to the score. Sergei Kostitsyn, Andrei Stas, and Alexander Pavlovich led the way for Belarus. Frederik Andersen was very shaky in goal for Denmark, which was unexpected. It looks like Denmark will yet again miss out on the Olympics in 2018 due to this loss.
Slovenia overpowers Poland
By Henrik Manninen – IIHF.com

A goal in each period by the NHL star saw Poland emphatically toppled 6-1. Another of Slovenia's big hitters, Jan Mursak contributed with 1+1 while Blaz Gregorc and Ken Ograjensek both recorded two helpers.
Poland who last featured at the Olympic Winter games in Alberville 1992 can look back at an afternoon they soon want to forget with Krystian Dziubinski scoring Poland's sole marker with 2:48 left of the game.
Slovenia, who made their first appearance at an Olympic ice hockey tournament in Sochi two years ago, top Group D for a place in PyeongChang 2018 after their bright opening day performance.
"Our goal was to win the game, but it is only one win and tomorrow is a new game," said Slovenia's head coach Nik Zupancic trying to keep lid on expectations for what is to come.
Poland who entered the Group D as the lowest ranked teams in Minsk, had their game plan clearly set out ahead of their game.
"We tried to play as hard as we could with the key for us not to give up any goals, and surprise with one or two ourselves," said Poland's defenceman Adam Borzecki.
"But we were perhaps a bit too open against a really strong team and we made a couple of mistakes and it cost us goals as they capitalised on their chances."
Poland's game plan held out until 4:10 left of the first frame. During their third consecutive minor penalty, Kopitar stepped up to convert a rebound to open the scoring. Before the period was over Roc Ticar combined with Ziga Jeglic, with the latter doubling Slovenia's lead at 17:38.
In the previous meeting between the two teams, played at the end of April at the 2016 World Championship Division IA, Poland prevailed thanks to a strong second period showing as they rallied back to 4-1 win.
This time around, Slovenia proved to be a different propositon. Mursak, one of Slovenia's returning stars, picked up the puck from his own defensive zone and surged ahead to beat Przemyslaw Odrobny in Poland's net with a backhand for Slovenia's third. At 24:46 Kopitar added Slovenia's unanswered fourth and before the middle frame was over a top drawer finished by Ales Kranjc had made it 5-0.
The teams had barely got out of the ice for the final frame when Slovenia wasted little time to add a sixth unanswered goal as Kopitar completed his hat-trick with an emphatic low strike.
With the game already well dead and buried, Kroselj's shutout big held out until 2:48 to go when a Pawel Dronia looping pass from defensive zone, saw Dziubinski race clear to hit home high past Slovenia's netminder.
As Poland look to lick their wounds and aim for an improved performance against hosts Belarus tomorrow evening, Denmark awaits for Slovenia. For Zupancic, it is Denmark who will enter tomorrow's battle feeling the height of expectations.
"Denmark are a really creative team who play with a lot of passion and a lot of skill. In my opinion the favourite of this tournament," he said.