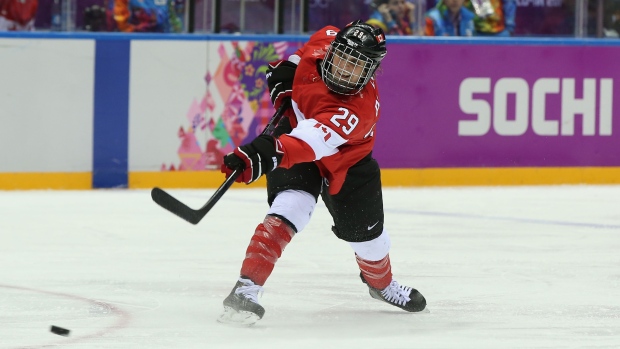 Canada defeated Sweden 3-1 on Wednesday to set up a pair of showdowns with the archrival Americans at the Four Nations women's hockey tournament.
The first game will close out round-robin play Friday. Since both teams will enter with 2-0-0 records, they have already locked up berths in the championship game Saturday.
"We've got to make sure that we play a good puck possession game," said Canadian assistant coach Dwayne Gylywoychuk. "We have to have a good puck management game. The U.S. are going to be prepared. They're a very skilled team and we've got to make sure we bring our A-game on Friday when the puck drops."
Marie-Philip Poulin's power-play goal at 10:22 of the second period stood up as the winner. Melodie Daoust iced the victory with an empty-net goal with 66 seconds left in the third period.
"The Swedes played a tough game," Gylywoychuk said. "They played us hard, they have a lot of pride in their game and a lot of pride in their defensive game.
"We knew we had to get a lot of pucks to the net to have success."
Hanna Olsson opened the scoring for Sweden at 11:48 of the first period and Haley Irwin pulled Canada even at 14:40. Canada outshot Sweden 13-2 in the opening stanza and 38-13 overall.
Sara Grahn was in net for Sweden while Genevieve Lacasse was the Canadian goaltender. Laura Fortino had two assists for Canada.
"We knew Sweden would come out hard," Poulin said. "We're really happy to come out on top here."
The United States blanked host Finland 4-0 in Wednesday's other game.
Canada, which opened the tournament with a 3-0 win over Finland, has dropped its last six meetings against the U.S. The world champion Americans haven't lost to Canada since dropping a 3-2 shootout decision in the 2014 Four Nations final.
"We know it's really intense every time we play them," Poulin said. "So we have to play physical, put a lot of pressure on them and a lot of shots."
Canada has won gold 14 times in the tournament's 21-year history.