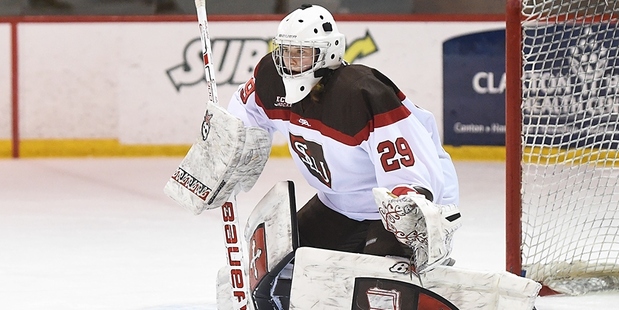 By Sam Hewat – NZ Herald
Good luck getting an interview."
That's what Paul Harrison had to say of his daughter Grace – a 19-year-old Kiwi ice hockey player who has quickly become one of the best Division I college goaltenders in the United States.
And it's not because she's gone LeBron James on everyone, or that her schedule is sometimes filled with four games in a week. It's simply because she is showing "the normal Kiwi reserved humility," according to her dad.
"She is almost embarrassed by her success."
Rewind the tape a few years and Grace was playing inline hockey with her brothers in Auckland. She quickly found herself as a goalie – in typical Kiwi fashion.
"I had two older brothers playing inline hockey," she said. "They needed someone to shoot on so that was a natural progression."
While America has thousands of young ice hockey players, New Zealand has just 120 registered female players.
Of those 120, only a handful take up the goaltender position, which makes Grace's achievements that much more incredible.
After playing in Auckland, she then went to Canada to play and study at school. In between, she was playing for the New Zealand national team and occasionally slotted in for a team in the NZIHL men's league.
That was all before she was offered a full scholarship to attend St Lawrence University in upstate New York.
The tuition alone is just under NZ$94,000 a year, but Grace gets a gear allowance on top of that. With her personalised pads, including traditional koru designs, that can push the price of equipment up to $5000.
Now, in just her second year of college at St Lawrence University – a team that is ranked No. 4 in the country – she's broken the programme record for shutouts with seven at the halfway mark of the regular season.
That's seven games without conceding a single goal, despite facing upwards of 30 shots a game.
Her coach, Chris Wells, has seen a lot of goalies in his time, but agrees Grace has something special.
"There's a lot of good goalies out there," he said. "And you're speaking to one of the best this year.
"One of the reasons she got herself into the position is her effort. Her work ethic and her attention to detail has given her all the opportunities to be as successful as she has been."
College ice hockey is one of the most competitive environments in the world for youngsters and the odds of a player making a roster are almost as high as lotto, according to her coach.
For many of them, they're on skates before they can walk, and it's 15 years of hard work and dedication before they find out if it's all worth it.
Darren Blong, the New Zealand national team's former captain and arguably one of the countries best ever, knows how tough it is for a Kiwi to play abroad – he himself spent stints in Canada and Russia.
"If you look at the numbers in New Zealand, I think it says something quite unique about her personality and perseverance," Blong said.
"Obviously she's got talent, but lots of people have talent.
"If you take the numbers, I don't know how many hundreds play at college but it's not a lot, and to get $100,000 scholarship at a top school playing Division I level and you're winning!
"The stats I see at the moment she's the hot goalie in the league and she's only in her second year, and she's 19! That says a lot about her will and how determined she is."
And her story hasn't been forgotten at home. The game continues to grow, and on the back of Grace's efforts, more and more young girls are looking to follow in her footsteps.
For Grace, being a pioneer is something that both gratifies and humbles her.
"I set out to pave a couple more stones for players coming through women's New Zealand hockey," she said.
"I think I've done that but if I can go further with that, it would be incredible."
St Lawrence doesn't have a single player on their roster outside of Canada or the United States, which makes it a wonder how they found a Kiwi in the first place.
"Quite honestly, we didn't know she was from New Zealand until we started speaking to her," Coach Wells said.
"She was only playing 45 minutes away, so fortunately we didn't have to go down to New Zealand to find Grace, we just had to go 45 minutes."
Call it a twist of fate, or just blind luck, but somehow a 19-year-old girl from Auckland, New Zealand has been able to rise to one of the best college goalies in a country which breathes ice hockey.